Stefano Cocchi
Association
Stefano Cocchi, 15 years, is died the 30 July 1977, in one swimming pool of a Prato's Club in order not to have had the necessary and timely attendance of aid.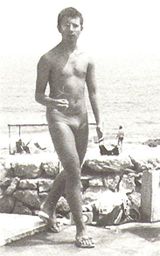 To 10 months from the event, and that is in the May of 1978, the father Giuseppe, together to other friends, has given life to the Association, in order to honor the memory of the son, but also because similar useless tragedies do not have to repeat.

The Association counts today more than 250 Associates, between which expert of medicine of the swim, underwater and hyperbaric, technical, instructors, lawyers, magistrates, educators, journalists, administrators publics.

The tax of registration and quota is 0,52 Euro.

The Association is opened to all those who has a whichever interest towards the problematic of the relationship between man and water, especially for the safety.

The Association is in Prato - Post office box 424 - CAP 59100 - Telephone 0574.24198 - 0574.621251 - 335.6217876

From the Statute
"Art. 1 - The purpose of the organization is the promotion of every direct activity to make known and improve the education, the safety and the protection of man in water as well as to study in detail all the problems concerning human life in water under the sporting, sanitary, tecnical, scientific and juridical profile and to take all the necessary steps.
Art. 2 - The Association is a non-profit organization and all the funds received, whether from dues or other sources, will be used to reach the purpose of the organization".

The dead men in water every year in Italy are many hundreds (4,5-5 approximately for 100,000 inhabitants) due to whichever type of incident, of which very many in apnea and public and private swimming pools; an american statistic places to the first place, like risk, the presence of the man in water, still more of the road, holding of course present the times of relative permanence; a few minutes in water, very many hours in machine. A greatest percentage of these absurd "died blue" (nearly all young people) could be saved, knowing better the rules the precaution, and the rules of the ready aid and the resuscitation.

The pages of this web site have the scope to illustrate which are the real dangers and the situations to avoid, which the physiological modifications and hydrodynamics of a dipped body, which the most effective methodical of resuscitation that all must know.